Description
For the best experience of using Liquid castile soap, it is ideal to fill in a foam dispenser bottle. Before you buy this bottle however, we would prefer you to use your own foam dispenser if you have one at home, rather than ordering this new one. Do we really need to introduce more plastic into the environment unnecessarily? Foam-type dispensers look like the ones in the image below. Do you have a bottle that looks like this, with these types of parts?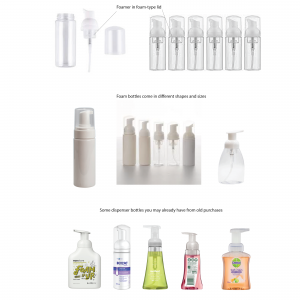 If you already have an empty like one of these foam bottles, please only purchase the liquid castile soap you need. There are 2 types:  personal care & for household cleaning
The only reason we list a foam bottle is that some of our customers do not already have a foam-type dispenser and have requested a listing. Until now, we forwarded some reused foam dispensers for those who were happy to reuse our containers. Now we have run out, and hence this product listing. This product is at cost, we bought it from Arthur Holmes South Island.
Check at home if you have one from a previous product you have used.
The foam-type dispenser for liquid Castile soaps is a great way to save wastage and make the most of the liquid soap. As we do not use any pore-blocking thickeners in our Liquid Castile soaps, the liquid soaps may feel watery. But in truth they are concentrated and clean, this is why they are light. So instead of using a regular soap dispenser or pourer, we suggest using a foam type dispenser as these clever lids, intake air and mix it with the light soap and make a soft, butter, foam that feels great on the skin and can take one bottle of Liquid Castile soap a very long way. Eliminating soap wastage and plastic bottle wastage when you buy the refills and reuse the same foam dispenser for as long as it lasts. All for want of a clean soap 😉 with only essential ingredients.