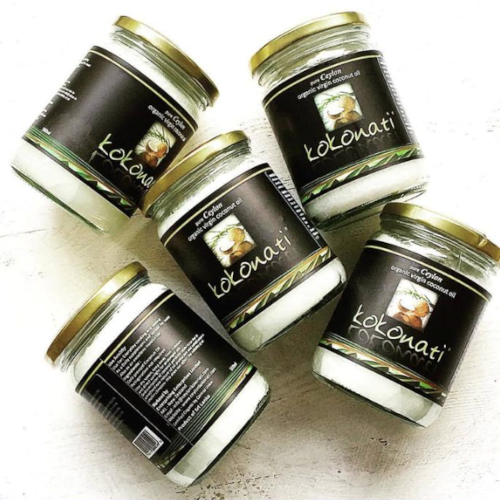 Why Kokonati Coconut Oil?
Pure Ceylon Kokonati's organic virgin coconut oil is :
made from the fresh meat of handpicked 45-day old coconuts
100% organically produced, raw and cold-pressed under 45 Deg C
rich in antioxidants as it is packed at origin, within hours of harvesting the coconut.
free of: chemical refining, transfats, hydrogenation, and preservatives
internationally accredited by Control Union for Organic EU and USDA NOP standards
produced in mills approved with ISO22000, HACCP, BRC, and GMP standards.
crafted by millers with multigenerational expertise.
smooth, fresh to taste with a clean kokonati aroma.
Shelf-stable for 2 years and more. Achieved by preserving the pure, raw nature of the oil in extraction.
Zero-waste in production with all bi-products utilized in the manufacture of other nature-friendly products
Coconut trees grow abundant naturally in Ceylon, nourished by the rich fertile soil. You can plant a seed on almost any part of the island and it will grow, no need for bagged potting mixes here!
Only pure Ceylon coconuts are used in the manufacture of Kokonati products.
About Organic virgin coconut oil
High-quality organic virgin coconut oils are cold-pressed and 100% naturally made with a single ingredient, fresh, white coconut kernels. You can differentiate the virgin coconut oils from other grades by the fresh aroma of coconuts and clean-taste it has on the palate with no acidity. Rich in medium-chain fatty acid, it is considered a functional superfood because it has healing benefits beyond its nutritional contents. A coconut has more nutrients. This is simply the reason why coconut oils have many advantages over other oil sources. It comes from a source that's naturally higher in minerals and phytonutrients.
List of benefits from organic virgin coconut oil
Boosts and regulates metabolism to maintain weight goals
51% lauric acid content boosts and maintains immunity. Coconut oil is antimicrobial and enhances protection from viral, fungal and bacterial infections.
Rich in healthy saturated (plant-based), good fats. also known as MCT's
Instantly boosts energy levels, endurance and enhances athletic performance.
Supports thyroid functions. The thyroid gland control activities which provide energy and support the health of the skin, metabolism, and even keep moods in balance.
Moisturises skin and improves the texture of skin, hair, and nails due to its soothing and natural humectant qualities that also reduce dryness of the skin and promote elasticity.
Increased metabolism means increased cell regeneration too. So the body will more quickly replace old cells with newer, healthier cells.
Reduces Insulin resistance to better utilize glucose which could help relieve the symptoms and reduce health risks associated with diabetes. See research here
Check out the different ways organic coconut oil can be used here!