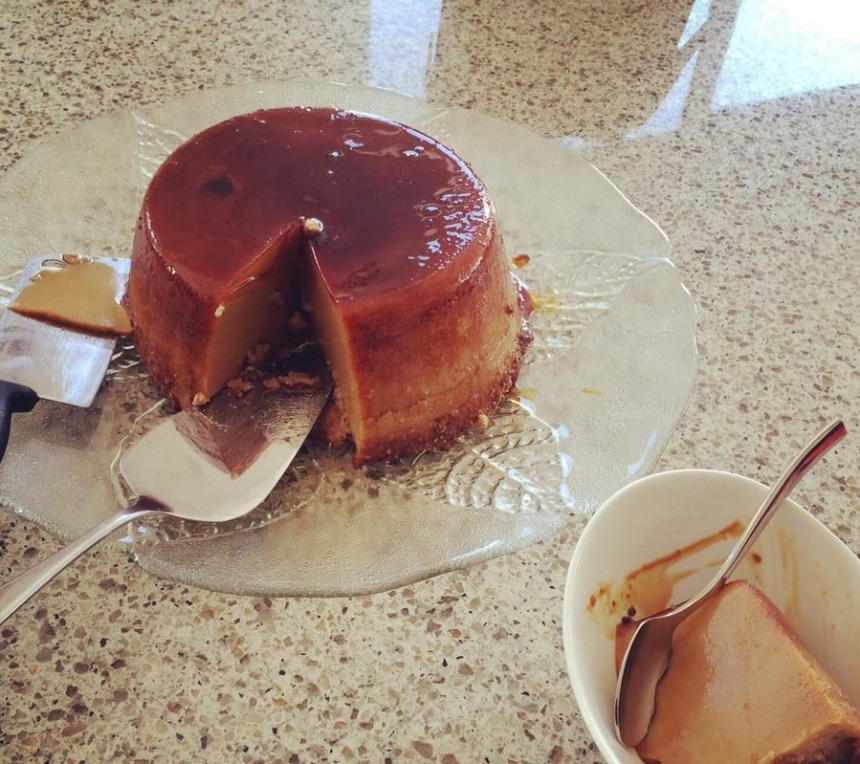 Coconut & Treacle creme brulee
Coconut & Treacle Creme brulee
Ingredients
From your fresh shopping:
8

eggs

100

gr

chopped or halved salted cashews
From Kokonati
1

bottle Kokonati Wild Kithul Treacle

375ml

1

tin Kokonati Organic Coconut Milk

1/2

tsp

Heirloom Green Cardamom powder

1/4

tsp

Heirloom Nutmeg powder

1/4

tsp

Heirloom Vanilla powder
Optional - For Caramalized top
10

tsp

Kokonati Coconut sugar

1/4

cup

water
Equipment
1.5

lt ovenproof pan or baking dish

1

deep baking dish - larger than the 1.5 lt dish used to bake the brulee

Handheld or Electric beater
Instructions
Preheat oven to 175 deg C, placing a deep baking tray filled halfway with water and placed in the middle oven tray

If caramelizing the top of the coconut brulee as shown in the picture, combine the coconut sugar and water on medium heat until thick and caramelized. Carefully coat the 1.5 lt overproof dish with the hot caramel before it cools and hardens up.

Always TAKE EXTRA CARE when handling hot caramel.

Leave the caramel coated pan/dish to cool.

In a seperate bowl, beat eggs until frothy.

Add coconut milk and treacle to the beaten eggs, whisking continuosly

Add cardamon, nutmeg and vanilla powders and combine well.

Lastly add the cashews.

Pour this custard mixture into the caramel coated pan/ dish

Cover the pan/dish with a heat-proof vented lid ( or even lightly wrapped aluminum foil with a 4-5 holes pierced - that will allow steam to escape)

Place the covered bowl in the heated water tray in the oven and bake for 30-40 minutes

Insert a wooden skewer to check if cooked( It will come out clean if done)

Once baked, let the coconut brulee cool in the pan and refrigerate for a couple of hours.

Before serving, give the pan a slight but firm shake to loosen the brulee.

Place a large serving platter on top of the pan and flip the tray and pan, so the brulee will now be inverted onto the serving tray. Cut and serve!

Note: Always keep the water tray in the oven half filled with water even if you need to add water in between baking.